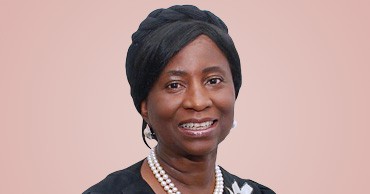 With over 40 years of practice, Eniola Fadayomi is one of the Nigeria's most well known Commercial Lawyers. She started her distinguished working career with Lagos State Ministry of Justice between 1972 and 1979. She was a member, Citizenship Committee and also the Executive secretary, Council on the Prerogative of Mercy. In 1980, she joined First Bank of Nigeria Plc as Legal Adviser. She was appointed Lagos state Attorney General & Commissioner for Justice in 1987 and served as member, Body of Benchers, Body for International co-operation in Criminal Prosecution and Enforcement, Council of Legal Education. 
She was a Senior Partner at the Nigeria's oldest law firms of Messrs. Irving & Bonnar and Messrs. Bentley Edu & Co. between 1990 and 1998. She was also the Principal Partner of Eniola Fadayomi & Co. firm of Solicitors and Advocates between 1998 and 2002. Mrs. Fadayomi was the Senior Partner and Team Leader for the finalization of the US$785 Million OSO 11 (Condensate) Field Development Project owned by Mobil Producing Unlimited and the Nigerian National Petroleum Corporation (NNPC) in 1992. The Project was partly financed by equity from the sponsors and debt capital from the World Bank, IFC, US Export/Import Bank, Japan Export/Import Bank and the European Investment Bank. 
Mrs. Fadayomi also led the Legal Team which advised and negotiated the project financing, documentation and designing of the investment vehicle of the OSO-NGL Project, a gas utilization project, which was sequel to the OSO-Field Development Project, originally estimated at US$810 million. Mrs. Eniola Fadayomi has vast experience in negotiation of both local and international commercial contracts and in advising foreign companies investing in Nigeria. She has appeared before numerous Courts in Nigeria. She was formerly, Chairman, Afribank Plc and Atlantic Hall Education Trust Council and Millennium Harvest Limited respectively. 
She is currently the President of the Institute of Directors of Nigeria. A widely acknowledged Transaction Lawyer, Eniola Fadayomi is a respected expert in Corporate and Commercial Law and Practice.